Vision & Goals Community Meetings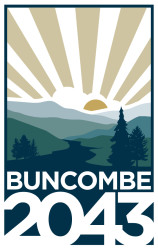 As we start our work on the 2043 Comprehensive Plan, we are focused on accomplishing the following objectives:
Learning more about changes and issues that will impact residents now and in the future
Creating a community vision and priorities for Buncombe County
Attend one of the in-person, virtual, or self-paced meetings in February 2022, to be held around the county.
NOTE: January in-person meetings have been rescheduled as a result of the rising COVID-19 rates.
Buncombe 2043 Comprehensive Plan Virtual Community Meeting – 01/25/22
Tue, Jan 25 12:00 PM
Participate by phone:
855-925-2801
Conference ID: 813 617 326 64
Pass code: 866913
Meeting facilitators will walk participants virtually through a community poll, priority exercise, and a mapping exercise.
Join the conversation here:
https://us06web.zoom.us/j/81361732664?pwd=dWc5Q05uK2xUNUltSGk1YUJLQjJtQT09
Meeting ID: 813 6173 2664 - Passcode: 866913
---
Buncombe County is creating a comprehensive plan, and we want to ensure that our team hears input, ideas, opinions, and concerns from every corner in our community that will shape Buncombe County's 20-year plan. The public is invited to: Buncombe 2043 Vision & Goals Community Meeting with Spanish Interpretation
Please register for this meeting in order to receive the ZOOM link by email to participate. If you are unable to access an email address for the link, please contact 828-250-4830 to get the call-in meeting phone number.
Past Events
Buncombe 2043 Comprehensive Plan Virtual Community Meeting – 01/25/22 *Español
Virtual Community Meeting - 01/20/22
Virtual Community Meeting - 01/20/22 *Español
Let's Talk - Buncombe County's Next 20 Years
;