Meetings & Events: Comprehensive Plan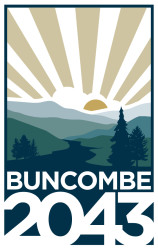 See a list of upcoming in-person and virtual public events related to the creation of the 20-year Comprehensive Plan. You can also request a paper copy of the poll, or pick up a copy at your local county library until February 13, 2023.
Buncombe 2043 Comprehensive Plan DROP-IN Community Meeting – 04/05/22, 1-4pm
Sandy Mush Community Center, 19 School Road, Leicester, NC, USA
Map
Meeting facilitators will walk participants through a community poll, priority exercise, and a mapping exercise.
Buncombe County is creating a comprehensive plan, and we want to ensure that our team hears input, ideas, opinions, and concerns from every corner in our community that will shape Buncombe County's 20-year plan. The public is invited to the: Buncombe 2043 Vision & Goals Community Meeting
This is a drop-in style meeting. You can attend any time between 1-4pm. Please register to attend.
Past Events

Comprehensive Plan Review at Planning Board

Comprehensive Plan Review at Planning Board
Tue, May 2 9:30 AM
30 Valley Street, Asheville, NC, USA

Comprehensive Plan Exhibit - Self-Guided at Black Mountain Library

Comprehensive Plan Exhibit - Self-Guided at Black Mountain Library
Fri, Feb 10 10:00 AM
Black Mountain Public Library, North Dougherty Street, Black Mountain, NC, USA

Comprehensive Plan Exhibit - Self-Guided at North Asheville Library

Comprehensive Plan Exhibit - Self-Guided at North Asheville Library
Tue, Feb 7 10:00 AM
North Asheville Public Library, Merrimon Avenue, Asheville, NC, USA

Comprehensive Plan Exhibit - Self-Guided at East Asheville Library

Comprehensive Plan Exhibit - Self-Guided at East Asheville Library
Fri, Feb 3 10:00 AM
East Asheville Public Library, Avon Road, Asheville, NC, USA

Comprehensive Plan Exhibit - Self-Guided at Fairview Library

Comprehensive Plan Exhibit - Self-Guided at Fairview Library
Wed, Feb 1 10:00 AM

Fairview Public Library, Taylor Road, Fairview, NC, USA

;